Lawn Care Software by LawnPro
Invoices, Scheduling, Estimates, Routing and More...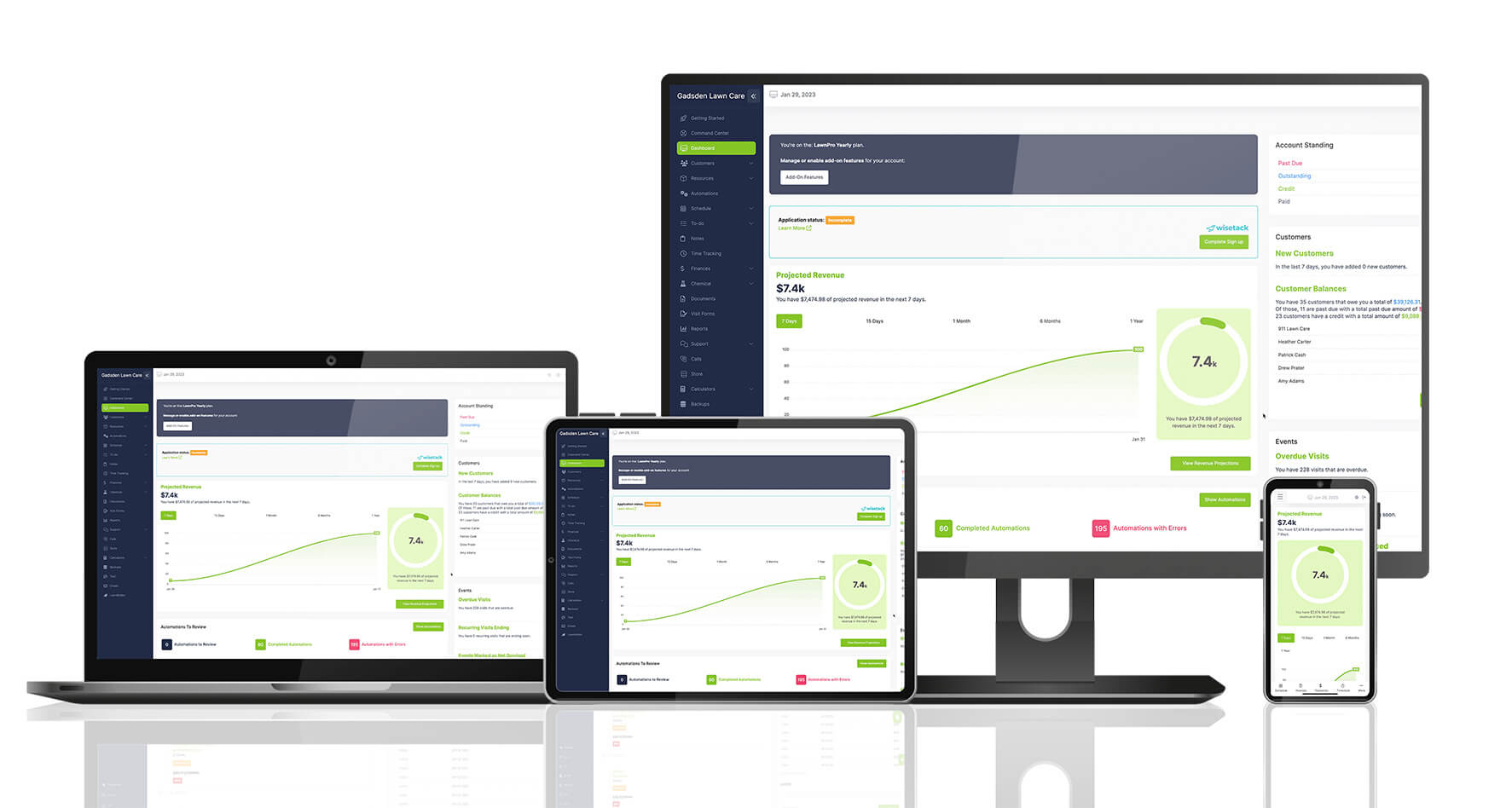 ---
Features
---
Invoices & Estimates
Put your lawn care business's logo on invoices and estimates. Add a custom message to invoices & estimates such as payment terms or a quick note.
Contracts & Level Billing
Create lawn care contracts that will bill your clients year round in equal payments. Lots of lawn care businesses use this to make their services more affordable to clients. Bundle all mowing, weed control / fertilization, mulch jobs and more into easy year round payments.
Instant Scheduling
When it comes to keeping up with your schedule, nothing is faster or easier. View, print, schedule and reschedule visits instantly by dragging and dropping visits to a new day. View and print your schedule by the day, week or month. Sort the schedule by crew, employee, customer and more. Lawn care software doesn't get any easier to use than this!
---
Use It Anywhere, Anytime.
Use your software from your office, a laptop in your truck, on an iPhone, iPad or anywhere else you might be! It can be used by you, your employees, office manager and more all at the same time! Your lawn care software is always up to date.
Equipment Maintenance
Keep up with all of your equipment inventory and maintenance. Enter pictures, serial numbers, the date you purchased it, if the equipment is currently being used, is being serviced, tracks which crew has it on their trailer and more. Set a reminder to tell you when it's due for maintenance automatically!
Chemical Tracking
Enter chemical inventory, formulas, EPA#'s and more. LawnPro lawn care software will deduct chemicals from your inventory as you spray customer's lawns.
---
Multiple Properties per Owner
Let's you have as many properties per owner as you'd like. Keeps up with each property separately! Have a default service or service (with their own price) for each property. Bill properties separately or all on one invoice.
Print or Send Invoices
Not only can you simply print your lawn care invoices, you can send them to your clients via email or regular postal mail with one click of the mouse!
Customers can view and pay invoices online.
They can see all past invoices and if they have a balance owed. Email invoices allowing customers to click & pay online. Invoice by customer, property, and more. LawnPro keeps up with when you were at a property, what you did there and puts it all on an invoice for you instantly!
Track Your Time
Track your time spent at each property. See which properties and customers are the most profitable. Enter the start and stop time at each property. Great if you really want to maximize profits per customer.
---
Store Photos of each Property
Keep photos of properties. Take photos in the spring, summer, fall to show customers before and after photos. Use it to document projects and more.
Schedule Repeating Property Visits
Set up a property and it's default service or services along with the price. Select how many times you want to visit that property and how many days in between each of those visits and what day you want to visit the property. This will be added to your calendar instantly!
Watch Your Money Grow
See instantly how much money you've made each day, week, or month. View paid and unpaid invoices at a glance. View a list of all invoices more than 30, 60, & 90 days past due and even send customers reminders to pay.
---
Quick Tour
---
Informative Dashboard
With the dashboard it's easy to see at a glance who you're going to mow, service, or visit each day.
You can see any recent payments customers have made, any past due invoices, the status of any estimates you've sent out and more.
Easy Drag & Drop Scheduling Calendar.
Schedule a single visit to customer's property, or create a set repeating of visits. View your schedule by the day, week or month.
Need to change your calendar around, or delay visits because of the weather?
That's easy. Just drag a customer to the day you want to move them to!
Print a daily list for each crew and more...
View All Invoices in One Place!
On the main invoices screen you can see all invoices.
Sort them by status: Paid, Past Due, Sent or Draft. Click on any invoice to view or edit it.
Search invoices by date range, customer name, payment status and more...
Creating Invoices Manually is Easy!
No other lawn care software makes creating invoices this quick and easy.
Create an invoice manually by simply choosing a customer, then just choose the item or items you want on the invoice.
Print, email or have us mail invoices for you. Not only is it very easy to create invoices manually, you can also create them automatically based on visits you've made to customer's properties.
Customer Management
View and manage all of your lawn care customers in one place.
Edit a customer, add new customer, see all of their properties you service, see their location on a map, view their account balance and more all from this screen.
Customer Property Management
On this screen you can see all the details about your customer's properties.
You can enter, schedule, and service an unlimited number of properties for each customer. Each property can have it's own date to service, one or more default services for that property and more.
Flexible Settings
On the settings page, you can change your company profile, add your logo so it will be on invoices and estimates, set default messages that will be on invoices and estimates, set up payment preferences so customers can pay invoices online and more.
Multiple User Login
One of the coolest things about LawnPro 5 is the ability to let employees or anyone else you need to have their own access.
You can choose what screens each person can see.
It's totally up to you if they can see prices, customer info, if they can schedule, edit or delete visits to customer's properties and more. No other lawn care software gives you this at no additional cost!
Estimates
Create detailed estimates that can be sent to customers by email or regular mail. Customers can approve estimates online!
Estimates can be turned into an invoice with one click!
Track Expenses
Enter and track all expenses for your lawn care business. You can categorize expenses any way you need to and even assign an expense to a customer.
Equipment Inventory & Maintenance
Enter your equipment, serial number, where you bought it, upload pictures and more. You can also set up equipment maintenance reminders and these will be put your schedule for you!
Items & Services
Create a reusable list of all the items and services your lawn care business uses.
Quickly use these items or services on invoices and estimates. Items and services can be taxable, have a quantity and unit of measurement applied (such as square feet, etc)
Accept Payments Online
Anytime you email an invoice to your customers, there's a link included for them to click and pay online.
You can use Paypal or Authorize.net for this and it's all done automatically! Get paid quicker!
Easy Payment Management
When customers pay online, payments are automatically applied to their account and invoices are marked as paid. You can also enter payments you receive from them when they pay by check or cash. Apply a credit to their account and more.
Reports
View and print easy to understand reports such as Profit & Loss, Tax Summary, Expenses, Revenue by Customer, Accounts Aging and Sales by Items & Services, Active Customers, Inactive Customers and more. Reports can be sorted and filtered by date, customer and more.
We Can Invoices for You!
Never worry about printing or mailing another invoice. We can print and mail all of your lawn care invoices for you. We include a tear off payment slip and return envelope for your customers to send your money back to you.
We know you'd rather be cutting grass than printing, folding and mailing invoices. Let us do the work for you!
*We offer this as an way to help you. You can always email, or print and mail your own lawn care invoices!
Default Services for Properties
With LawnPro lawn care software, each property can have it's own default service or services you perform there.
Each time you complete a visit to that property, the default service or services are automatically added to be invoiced.
When you create an invoice, all the dates you visited the property, the service or services you performed, and the price are added for you!
Chemical Inventory & Application Tracking
Detailed chemical tracking and inventory management. Enter chemical names, Product ID, vendor, lookup code, EPA regulation number, application rate and more.
When it comes to applications, you can keep up with the date you applied an application, what chemical was used, size of the area treated, the amount of chemicals used, air temperature, wind speed and direction, the reason for use and who did the application...
Schedule One Time or Recurring Visits
Set up a one time or set of repeating visits to a customer's property. Repeating visits can be scheduled to be a certain number of days between each visit, to be visited on a certain day every week and more. Repeating visits can last for a certain number of visits or can be set to end on a certain date.
---
Testimonials
---
Here's what a few of the over 7291 Lawn Care Professionals that use LawnPro had to say:
"She's going to email everyone in the homeowner's association and recommend me."

"Thanks for the info. It certainly was a profitable day today. I got my very first customer. But wait, there's more... She is a realtor, and president of her homeowners association. (which just happens to be one of the wealthiest neighborhoods in the Jackson area). She loved me! She is going to email everyone in the association and recommend me. To top it off, using LawnPro, I was able to produce a professional looking invoice and a blank contract, which she promptly signed and handed me a check for the entire duration of the year contract up front!!!!!!

Yes, it has truly been a great day, and I owe it to you and LawnPro."

Jason in Jackson, MS
"...best of all, you can add your own business logo"

"After spending countless hours of research via Internet and phone on choosing the right lawn care software, I finally made the decision to go with LawnPro- and will never look back. This program has everything you need in dealing with clients- contracts, invoices, estimates, summary reports, pre-written letters, you name it, the program has it. It is easy to use and has definitely been a great asset to my company for the past year. The program provides professional letters, contracts, and invoices that allows my company to stand out- whether it be in the bidding process or our overall presentation to the public. And best of all, you can add your own business logo to all public materials. I have recommended this program to many and will continue to recommend it!"

Shawn Robinson
Top Choice Lawn Care, LLC
Nashville, TN
"...used the letter welcoming a family to a neighborhood, which got me two new customers."

The software has been very helpful in sending out proposals as well as thank you notes. I even used the letter welcoming a family to a neighborhood, which got me two new customers. All my customers like the invoices I take with me to the job, or send after the work is done. I'm now getting several of my clients used to the monthly billing, which has made billing them much easier on me as well as them.

Add to that the features that let me keep up with my equipment as well as how much I am making, is exceptionally nice, and my tax person loves it. It makes their job much easier. It really saves time (which is money) over the long run. Thanks for taking the time to put together a work tool that really works. I am looking forward to using the latest software, and I already know it will be a great advantage to me in the future.

Being professional is more than cutting a lawn to make it look good, it also includes looking good, and providing great service from every angle, including the paperwork. Again, thanks, your software has really be a great help to my business.

Danny W Morgan
An Old Man With A Lawn Mower
"...using this software I don't have to use a calendar or track invoices."

Since I started using this lawn care software I don't have to use a calendar or track invoices. I love the estimate calculators - they take all the guess work out of my estimates and my customers, old and new, say they love how they know my prices are great and I will always show up when scheduled.

Great software product and great price - my business has grown because of it!!! Thanks

Total lawn care, LLC.
Lennon McDuffie
"I'm a lawn care person not an accountant. With this program I can easily do all the paperwork for my business."

For the past year I have been using LawnPro software and am very pleased with the results. I am a lawn care person not an accountant. With this program I can do all the paperwork for my business. I have found it easy to set up and maintain my customers and the services I provide to them.

Daily routing and follow-up is the best. I just print a daily route sheet and keep track of the time spent on each property which results in better service and pricing. Keeping track of invoicing and payments is simple. My accountant said my P&L looks better with LawnPro.

The support has been great!! When I have had questions or suggestions, I just call or e-mail and get the answers I need.

Don Crain
LawnAir
Colorado
"...Thanks for the fast response, to my questions."

I just wanted to tell you how surprised I am at the support and the service you provide to your clients. I like that personal service." Also want to let you know that I've been using your software for the past 3 years and I'm really happy with it. I like the way it flows and in fact I wouldn't even think of changing to any other program. I like the way LawnPro works and also the price. It's the most reasonable price I've found on the net. Other programs less complete than this, will go for 500 plus! I hope this doesn't give you an idea to raise you price. Keep the price reasonable and the program full of features as it is now.

Juan Rodriguez Aceves
---
Get It Now!
---
Secure Payment System: When you click on the "Get It Now" button above, you will be redirected to a 100% secure shopping cart where you will enter your information. After that, you'll be using LawnPro lawn care software instantly.